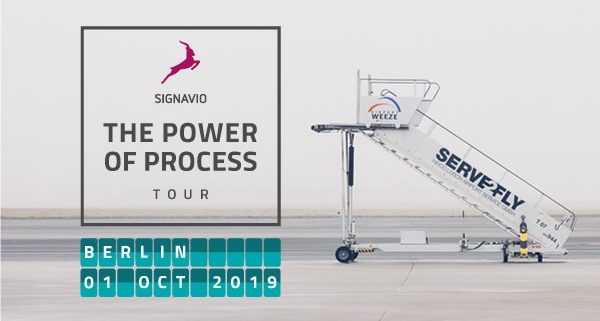 Anmeldelink HIER.
Digitale Transformation, Operational Excellence oder die ideale Customer Journey – Signavio unterstützt Sie zielgerichtet bei Ihrem Unternehmenswandel. Auf der The Power of Process Tour in Berlin erfahren Sie, wie Sie das volle Potenzial Ihrer Unternehmensprozesse ausschöpfen und langfristig konsistente und gute Geschäfts­entscheidungen treffen. Profitieren Sie dabei von den Erfahrungen unserer Partner und Kunden.
Tauschen Sie sich mit Experten aus der Prozess- und Operational-Excellence-Community auf der Power of Process Tour in Berlin aus. Erfahren Sie, wie Sie Signavio auf dem Weg zum erfolg­reichen Unternehmens­wandel unterstützt und wie Sie den Schritt zur modernen Organisation und zur besseren Kunden­orientierung meistern. Renommierte Branchen­experten zeigen, wie Sie die täglichen Heraus­forderungen Ihres Unter­nehmens bewältigen – und das Potenzial Ihrer Prozesse nutzen, um klügere Entscheidungen in kürzerer Zeit zu treffen.
Wir bieten Ihnen die Gelegenheit, mit unseren Kunden ins Gespräch zu kommen und exklusive Einblicke in die Funktions­weise der Signavio Business Transformation Suite zu erhalten. Genießen Sie Ihr Frühstück in einer entspannten Runde und erweitern Sie dabei Ihr Netzwerk!
Registrieren Sie sich jetzt, um Ihren freien Platz zu sichern!
The Power of Process Tour in Berlin – Agenda
08.00-09.00 Uhr
Registrierung & Frühstück
09.00-09.30 Uhr
Eröffnungspräsentation , Steven Lewandowski von Signavio GmbH
09.30-10.00 Uhr
The Power of Process in 5 Geschäftsszenarien, Tobias Przybylla von Signavio GmbH
10.00-10.15 Uhr
Pause
10.15-11.15 Uhr
Kunden-Prozessinitiative, Andreas Chorosis von Delivery Hero SE
11.15-12.00 Uhr
Prozesstransparenz durch Process Mining – so identifizieren Sie Ihre Optimierungs­potentiale, Maike Spierling & Torsten Kerwien
von itelligence AG
12.00-13.00 Uhr
Networking & Mittagessen
Weitere Termine der The Power of Process Tour
Unser Team freut sich, mit der The Power of Process Tour unter anderem in folgenden Städten Halt zu machen:
In Zusammenarbeit mit: