Interview mit Herrn Dr. Florian Neukart, Principal Data Scientist der
Volkswagen Group of America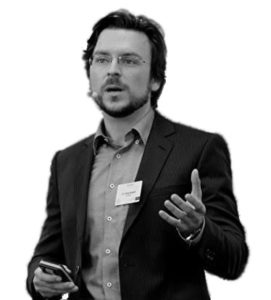 Herr Dr. Florian Neukart ist Principal Data Scientist der Volkswagen Group of America. Herr Neukart arbeitete nach seiner Promotion in der Informatik an der University of Brasov als Consultant für Business Analytics bei SAP und wechselte 2013 als Data Scientist zu Audi. 2015 übernahm er für mehr als ein Jahr die Funktion als Chief Technology Officer des Volkswagen Data Labs, bis er September 2016 zu Volkswagen in die USA wechselte. Darüber hinaus ist er bereits seit 2010 in der Forschung und Lehre für Quantum Computing, maschinelles Lernen und künstliche Intelligenz tätig und zudem Autor des Buches "Reverse Engineering the Mind – Consciously Acting Machines and Accelerated Evolution".
Data Science Blog: Herr Dr. Neukart, Sie sind einer der führenden Data Scientists in der Automobilbranche. Schlägt Ihr Herz mehr für die automobile Praxis oder für die Forschung?
Das kann ich so klar nicht trennen – ich habe das Glück, seit Jahren in beiden Welten tätig sein zu können, und was für mich dabei den besonderen Reiz ausmacht, ist die Möglichkeit, neuste Forschung in die Praxis zu überführen, also anhand von realen Problemstellungen zu verifizieren, ob eine Theorie praxistauglich ist oder nicht. Umgekehrt gilt das genauso – es kommt vor, dass ich mich mit Fragestellungen konfrontiert sehe, für welche die erforderliche analytische Mathematik noch nicht entwickelt wurde, was wieder zu neuer Forschung und innovativen Ideen anregt. Schon mein ganzes Leben bin ich getrieben von Neugierde und will verstehen, wie Dinge funktionieren, unabängig davon, ob es sich um die Gruppendynamik und Selbstorganisation von Herzzellen, quantenphysikalisches Verhalten von subatomaren Teilchen, autonom agierende Fahrzeuge, Fluktuationsprognosen in Märkten oder die Auswertung und Interpretation von Sprache handelt. Dabei ist es zwar primär die Mathematik, die mir hilft, Zusammenhänge zu verstehen und zu interpretieren, aber erst die Technologien und Plattformen, die über die letzten Jahre entwickelt wurden, um etwa rechenintensive Mathematik zu parallelisieren, Daten im Hauptspeicher zu halten und effizient abzufragen, machen unsere Arbeit erst möglich und richtig interessant.
Data Science Blog: Welche Rolle spielt Data Science derzeit für die Automobilbranche? Sicherlich dreht sich gerade alles um das autonome Fahrzeug?
Natürlich sind selbstfahrende Fahrzeuge und Mobilität ein grosses Thema bei OEMs. Aber Data Science ist viel umfassender. Data Science hat bereits Einzug in die technische Entwicklung, Einkauf, Marketing, Logistik, Produktion, Sales, After Sales und Retail gehalten. Speziell der Connected Customer wird immer bedeutender, da sich die internationale Wettbewerbsfähigkeit in naher Zukunft auch über die neuen technischen und Serviceangebote definieren wird, die mit Hilfe von Data Science und maschinellem Lernen möglich werden. Bezogen auf selbstfahrende Fahrzeuge beginnen wir, das gesamte Ökosystem, bestehend aus Infrastruktur und unterschiedlichen Verkehrsteilnehmern, als Multi-Agentensystem zu betrachten. Vehicle to Vehicle und Vehicle to X-Kommunikation gewinnen an Bedeutung, und speziell die Einführung von sozialen Komponenten wird entscheidende Vorteile bringen. Beispielhaft gesprochen, können Ziele der Flotte sein, die Sicherheit für die Passagiere und andere Verkehrsteilnehmer (Passanten, Radfahrer, Motorräder, Fiaker :-)) zu maximieren und gleichzeitig den Verkehrsfluss zu optimieren. Es macht wenig Sinn, eine Ampel an einer Kreuzung auf Rot zu schalten, wenn die Kreuzung gefahrlos durchquert werden kann. Davon abgesehen werden in naher Zukunft alle Fahrzeuge mit ähnlichen Sensoren ausgestattet sein, etwa Kameras, LiDAR, Radar, Ultraschall und Mikrofonen zur akustischen Umfeldwahrnehmung. Ein weiteres Szenario versetzt die Stadtverwaltung in die Lage zu erkennen,  wo der Verkehrsfluss stockt und was getan werden muss, um diesen zu optimieren. Das "was getan werden muss" ist extrem interessant – etwa könnte man die Strassen digital werden lassen, also Asphaltstraßen durch Glas ersetzen und durch OLEDs ergänzen. Damit sind dann dynamische Veränderungen der Verkehrsführung möglich. Materialtechnisch ist das machbar, denn die Oberflächenstruktur von Glas kann so entwickelt werden, dass dieses auch im Regen rutschfest ist. Glas kann zudem so flexibel und gleichzeitig stabil designet werden, dass auch darüberfahrende LKWs es nicht zum Brechen bringen. Die Abwärme der Displays kann zur Beheizung genutzt werden – es gibt somit auch im Winter keine Eisfahrbahnen mehr. Die Stadt kann sich selbst als Agent in die Multi-Agentenumgebung einbringen und zur Erreichung der definierten Ziele beitragen.
Data Science Blog: Was sind gerade heiße Themen im Automotive-Sektor? Und demgegenüber gestellt, welche Themen spielen in der KI-Forschung gerade eine größere Rolle?
Data Science hat in jedem Bereich Einzug gehalten. Jedes Thema ist auf seine Art "heiss", egal ob es sich "nur" um eine Marktprognose, die vorhin erwähnten Multi-Agentensysteme, kollaborative Arbeitsumgebungen, in denen Menschen und Roboter in der Produktion zusammenarbeiten, oder etwa persönliche Assistenten handelt. Nehmen wir eine Marktprognose als Beispiel. Hier sind für den menschlichen Entscheider nicht nur die internen Verkaufszahlen und alle Indikatoren, die etwa die Weltbank liefert, interessant, sondern auch die Gesellschaftsentwicklung und die politischen Strukturen.
In der KI-Forschung ist das für mich interessanteste Thema die generelle KI, also die Schaffung einer künstlichen Intelligenz, die domänenunabhängig komplexe Probleme selbstständig lösen kann. Vieles, was uns einfach scheint, hat sich aber als sehr komplex für KI-Systeme herausgestellt. Der Weg zur generellen KI und künstlichem Bewusstsein führt für mich über das Verständnis von Dingen, wobei ich hier sowohl ein Atom als auch eine komplexe Lebensform als "Ding" zusammenfasse. Ein Teil, der uns (und Software) hilft, Dinge in deren Kontext und Umgebung einzubetten und zu beschreiben, ist die Sprache – etwa ist ein Reifen Teil eines Fahrzeugs und eine Schraube Teil eines Reifens. Das und die Kombinationen mit anderen Säulen der KI, wie etwa Computer Vision, Logik und Entscheidungsfindung, Maschine Learning und Multi-Agentensystemen (Multi-Agenten-Lernen), bringt uns der generellen und bewussten KI Schritt für Schritt näher, wobei ich mir hier nicht anmaße, eine Definition für Bewusstsein zu geben.
Data Science Blog: Welche Tools verwenden Sie bzw. Ihr Team bei Ihrer Arbeit? Setzen Sie dabei auch auf Open Source?
Wir sind "technolgieagnostisch", wir versuchen also, für jeden Anwendungsfall die beste Technologie zu finden und einzusetzen. Das ist mal ein Tool oder eine Plattform von einem grossen Softwarehersteller, mal eine Lösung von einem Startup, wobei wir die meisten unserer Projekte doch in R oder Python umsetzen. Wir packen auch unsere Eigenentwicklungen in Libraries, die wir momentan aber noch ausschliesslich intern nutzen.

Data Science Blog: Was macht für Sie einen guten Data Scientist aus? Nach wem suchen Sie, wenn Sie einen Data Scientist einstellen?
Die wichtigste Eigenschaft scheint mir ein Drang nach dem Verständnis von Zusammenhängen und Dingen zu sein – eine starke Neugier – wobei ich unter "Dingen" je nach Kontext Atome genauso wie komplexe Maschinen einordne.
Dass ich über Atome und komplexe Maschinen schreibe, hat damit zu tun, weil ich auch durch meinen zweiten Job an der Uni vielfältigste Daten analyiseren durfte. Und dass ich Beiträge zu Maschinenlernen und Physik verfasse, liegt tatsächlich in erster Linie an meiner Neugierde. Die Mathematik, Physik, Neurowissenschaft, Informatik … sind Grundlagen, die sich jemand aneignen wird, wenn sie/er verstehen will.
Data Science Blog: Wie sieht Ihrer Erfahrung nach der Arbeitsalltag als Data Scientist nach dem morgendlichen Café bis zum Feierabend aus?
Idealerweise startet der Tag nicht mit Emails :-). Wenn ich aus meiner Erfahrung sprechen darf, dann lässt einen die Data Science auch nach der Arbeit nicht los und die Grenzen von Beruf und Hobby überlagern sich irgendwann. Schon während dem morgendlichen Café tauschen wir uns über die jeweiligen Projekte aus – jeder sollte soviel wie möglich über alle Projekte wissen, um nicht lediglich Nischenwissen aufzubauen. Scrum hat sich auch in Bezug auf Data Science bewährt – je nachdem, wie viele Data Scientists an einem Thema arbeiten und wie viele Tasks anfallen, machen tägliche Stand-Ups Sinn – speziell wenn ein Projekt viele Subkomponenten hat, die als grosses Ganzes funktionieren müssen, hat so jeder Beteiligte immer vollste Transparenz. Die meiste Zeit fliesst natürlich in die Entwicklung der jeweiligen Prototypen / Produkte, aber etwa ein Drittel sollte reserviert sein für das Durcharbeiten von Papers mit aktuellsten Forschungsergebnissen und dem Einarbeiten in neue Technologien. Ich habe mal gesagt bekommen "Data Scientists sprechen nicht viel", was für die Zeit während der Entwicklungsarbeit (und meiner Erfahrung nach auf die meisten Informatiker) auch zutrifft, da wir zumeist den Zustand eines komplexen Systems im Kopf behalten müssen – tatsächlich aber sprechen wir sehr gerne und viel über mögliche Arten, Probleme zu verstehen und zu lösen. Für meine Kollegen und mich ist Data Science kein bloßer Job, wir beschäftigen uns auch nach dem Feierabend noch mit relevanter Lektuere oder privaten Side-Projects – wie gesagt, wir haben das Glück, Job und Hobby zu vereinen.
Data Science Blog: Für alle Studenten, die demnächst ihren Bachelor, beispielsweise in Informatik, Mathematik oder Wirtschaftslehre, abgeschlossen haben, was würden sie diesen jungen Damen und Herren raten, wie sie einen guten Einstieg ins Data Science bewältigen können?
Natürlich ist ein solider methodischer Hintergrund, darunter Statistik, Mathematik und Informatik mit Fokus auf Machine Learning erforderlich, und auch das technische Wissen, die Theorie in Produkte zu überführen, also in Programmiersprachen und relevante Libraries, Datenbanken, Streaming und IoT. Das sind Kernkompetenzen, aber wie gesagt, am Anfang steht die Neugierde. Ich rate jedoch jedem, sich einem Problem nicht ausschließlich über die Theorie zu nähern, sondern erst zu versuchen, das Problem zu verstehen und das theoretische Wissen hands-on aufzubauen. Niemand weiss alles, und die Recherche rund um ein Problem ist ein wichtiger Lernprozess, aus dem man unglaublich viel mitnehmen kann. Data Science ist immer hands-on, und Neugierde führt zum Ziel.
https://data-science-blog.com/wp-content/uploads/2017/02/header-interview-volkswagen-of-america-data-science.png
360
960
Benjamin Aunkofer
https://www.data-science-blog.com/wp-content/uploads/2016/09/data-science-blog-logo.png
Benjamin Aunkofer
2017-02-27 15:19:50
2017-02-27 15:44:52
Interview - Data Science in der Automobilbranche